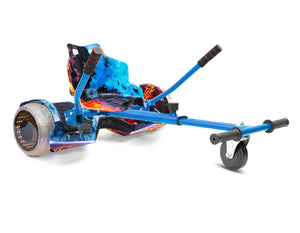 Hoverboard
The Classic model from the Official Hoverboard UK range: the 6.5″ Original is a high-tech, no-fuss winner for every Hoverboard rider. As with any classic, the 6.5" shines in its stylish versatility & long-lasting appeal to a broad range of users. The Intelligent AUTO balance technology coupled with precise gyro-sensors allows for a super responsive and smooth ride for all users from 20-90KG. This little street racer boasts great specs and love by all ages.
The 6.5″ Classic combines Super Silent Drive German Engineered Motors & the Official Hoverboard Smart Chip powered by a Premium SAMSUNG Battery packs a punch. The 6.5″ Classic zooms effortlessly over all kinds of flat terrain. Supplied with a fast charger and long life battery pack means you can play longer and harder!
Sonic Bright MultiColour LED Lights ensure you are riding in style and can easily be seen. Enjoy your favourite music with our built in Bluetooth speaker whilst you Ride or Relax.
Hoverkart
Turn your Swegway Hoverboard into a Go-Kart in minutes! With the our Hoverkart Kit, you can take full advantage of the balancing technology in our swegways. Use them to accelerate, brake, turn and even do a wheelie!
Our Hoverkarts can be attached and detached in seconds, turning your hoverboard into a racing machine! All Swegway Hoverboard Hoverkarts are also fully adjustable to accommodate all rider heights and Hoverboard sizes. Never worry about trying to keep your balance, with your hand-operation levers you can control every movement you make!
| | |
| --- | --- |
| Wheel Diameter | 6.5 Inch |
| Wheel Type | Rugged Rubber Tyre |
| Top Speed | 12 km/h |
| Audio | Bluetooth 4.0 Speaker |
| Hoverkart Compatible | Yes |
| Charge Time | 2-3 Hours |
| Max Climbing Limit | 15 Degree |
| Range | 9 km |
| | |
| --- | --- |
| Min/ Max User Weight | 20 kg / 90 kg |
| Charger | CE & UL Certified 42V 1.5A |
| Motor | Dual Motor with Dual Independent Gyros |
| Disco LED | Yes |
| Certificate | CE & UL |
| Battery Size | Authentic Li-Ion Battery Cells (4000 mAh) |
| Dimensions | 23.8" x 7.5" x 7.5" |
| Product Weight | 7.5 kg |
All Official Hoverboards are jam packed full of great features and boast Incredible specifications. Here's a list of what's inside this Official Hoverboard® package:
1. Your Chosen Official Hoverboard

®

2. Your Chosen Classic Hoverkart by Official Hoverboard

®

3. Fast CE & UL Certified UK Charger
4. Instruction Manual
All Official Hoverboards and Hoverkarts are delivered in a discreet plain brown box and safely packaged using casted styrofoam.
Hoverboards & Hoverkarts are delivered in two separate packages/ boxes.