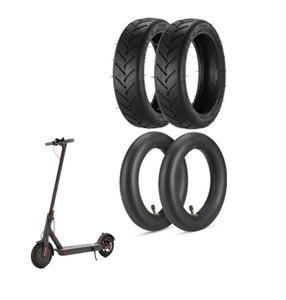 PLEASE NOTE: SCOOTER NOT INCLUDED
Electric scooter 8.5" replacement tyre & tube set. You can purchase these individually or as pairs.
Replacement tyre suitable for front or rear wheel of the Xiaomi M365. All scooter tyres, like other vehicles, can experience wear and/or punctures and may need replacing. This is an exact replacement to the tyres that come in your new Xiaomi box.
Product Specification
Size: 8.5inch rubber tyre
Suitability: Front or rear wheel
Compatible: Xiaomi M365, Xiaomi M365 Pro, 8.5" Pro Electric Scooter. (All 8.5" Electric Scooters).
Fitting: Tyre levers or equivalent will be needed to fit
Whats in the Box:
- 1 Set = 1 Tyre & 1 Tube
- 2 Sets = 2 Tyres & 2 Tubes